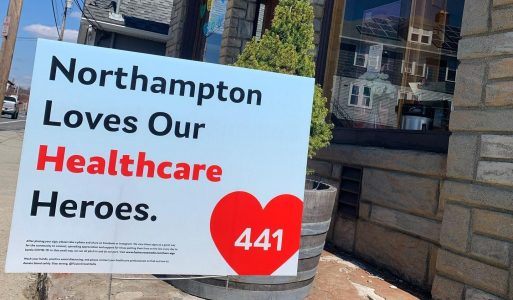 By Cassandra Balentine
For many, 2020 started out strong. However, things soon took a turn when reports of a novel coronavirus brought a lot of U.S. businesses to a halt in early March. While many states deem print providers essential, a lot of their existing customers are not. Therefore, like other organizations, print providers have to be quick on their feet to survive.
Established in 2011, Fusion Cross-Media is a marketing and print service provider (PSP) primarily servicing CT and MA. Headquartered in Manchester, CT, it recently expanded from a 4,000 building to a 10,000 square foot facility—including 8,900 square feet of production space and 1,100 square feet of office space, two docks, and an overhead garage door. In addition to Zach Schwartz, president, the company staffs six full-time employees.
Schwartz started in the print industry young, working for his father at a quick printer for more than 20 years. The franchise model wasn't for him, and he opened Fusion to build a separate company. "While working for him I ran the second company. I brokered printing while building my customer base and offering marketing and creative services, including website development, email marketing, and landing pages connected to high-impact direct marketing campaigns." Once he started investing in equipment, his dad ended up coming to work for him when he was nearing retirement.
In addition to print, Fusion offers integrated marketing services. "We help our clients exceed their business objectives using our creativity, digital, and printing services," explains Schwartz.
For equipment, it relies on Canon and Ricoh digital printing technology, as well as offset equipment. To complement this, they recently added a Roland XC 540 print-and-cut system and a Ricoh TF6250 UV LED flatbed to increase capability, improve quality, capability and turn-around.
Schwartz estimates that approximately 70 percent of its output is digitally printed.
Unprecedented Challenges
When the COVID-19 crisis started to unravel in early 2020, Fusion was experiencing record sales. "By the last week in February, 75 percent of the businesses we work with began cancelling projects and then closed. Many didn't pay for completed work. To make matters worse, I had just taken a significant risk and moved into a larger location and installed a new flatbed printer," comments Schwartz.
The company's number one concern is keeping everyone employed. "We applied for the stimulus loans and didn't receive anything the first round. We have an excellent team here and even though March was terrible and we didn't break even in April, I didn't lay anyone off or let anyone go," he shares.
Good news for Fusion, they were approved for the second round of the government Paycheck Protection Program. "I am optimistic that this will help us continue to push forward," comments Schwartz.
Another positive is that its largest client is essential healthcare, so work continued to come in. "In between their projects and a trickle of other client projects, we reorganized, performed equipment maintenance, and even rebuilt some equipment."
With no significant wide format work to keep its new flatbed busy, Schwartz took matters into his own hands. "I started a fundraiser for our community with a message of support and gratitude, and it also helped keep our new machine running and employees busy."
Hot Products
In this uncertain time, Schwarz sees increased interest in certain products, specifically around messaging related to social distancing and new policies businesses have had to implement to create safe working environments. These include sign, vinyl, and banner printing.
Lawn signs are one example. With many graduations and other milestone events cancelled, the company is printing hundreds of lawn signs to recognize students in untraditional ways.
Interest in these signs spawned Fusion's community fundraising idea—the Community Hero Signs campaign. The signs are meant to help bring positivity to local communities during a difficult time.
"Business felt hopeless. With idle machines I had an idea for how we could make a positive impact in our community by providing a message of support and gratitude for those people who put their lives on the line every day," says Schwartz.
"I'm sure my employees thought I was crazy," he quips. "We started printing 4/4 signs and giving them away with no work coming in." He admits that looking back it does seem a little crazy. "My goal was to give away 200 lawn signs, begin selling them, and provide a donation back to a local charity." Coming from a tight-knit town in Western MA, the community came together to help him reach that goal in about three days. "Within a week we were in such high demand that we moved to online ordering."
Unique to these signs is that each features the name of the town where it is placed as well as consecutive numbers, starting with 001. "No two signs are alike," he says. The number enables them to document how far the message travels. "We are now at 1,300 signs in numerous communities and five states."
The ability to spread positivity and maintain social distancing is part of the campaign. The idea is a person purchases five or ten signs, they keep one and give the remaining away by placing on the lawns of people who support the message. Each person who placed a sign on their lawn is encouraged to share on social media, and with support and enthusiasm from the communities, the cycle continues.
A Helping Hand (or Sign)
Fusion assists other local businesses with printing and marketing services. For instance, a restaurant in Schwartz' town, "The Kitchen," was forced to change its business model overnight, moving from sit down to take out services. Throughout the crisis and beyond, the print provider continues to create visual merchandising solutions, like signs, banners, and even window graphics to make the restaurant's storefront more visible.
To take his services a step further, Fusion partners with The Kitchen to act as a pick up location for local sign orders. Customers are encouraged to order some take out at the same time. Schwartz says about 150 orders have been picked up at this location, a win-win for the two companies.
Small businesses are struggling, but non-profits are also fighting to stay afloat as their constituent base and community importance grows. Schwartz reached out to support Rachel's Table in Springfield, MA, a non-profit organization dedicated to fighting hunger. Fusion donates $2.00 for each sign ordered to help support the mission. "We formed a partnership and they started helping us spread the news of the signs."
Fusion continues to form partnerships with local businesses and non-profits. It is also working with the Meal Train of Franklin County; MACC Charities of Manchester, CT; and another restaurant in Greenfield, MA.
Operation Changes
Like other businesses, Fusion had to reorganize its operation during pandemic lockdowns in order to reduce overhead and streamline new workload.
One thing it did was put its web to print system (W2P) on hold since its regular customers weren't placing scheduled orders. Without an W2P system, it added an ecommerce component to its website overnight. It now offers a simple form for community members to order Community Hero Signs in select quantities. On the form customers also note which town the sign will be placed in.
"We only allow for signs to be purchased in batches of five or ten because the signs are 24×18 inches and we get ten up on a 4×8-foot sheet.
Because many request single signs, it is allowed but at a premium price to encourage larger orders.
For the Community Hero Signs, the process is more manual than a typical sign order. Since an automated W2P system isn't used, the PSP's graphic designer must typeset each sign. "Each sign has a unique number so that no two signs are alike. The numbers count up. The signs are printed on demand and towns change with every order."
An ONYX Thrive RIP is used to impose the signs. Imposition only takes a few minutes and it's about 30 seconds to RIP per side. The signs are printed 4/4 on bright white corrugated plastic. The Ricoh TF6250 is used for production, taking about three minutes to print the entire sheet on one side. "The color is vibrant and free of banding—even in areas with graduated colors," shares Schwartz.
To obtain the signs, customers either choose UPS shipping or select one of four local pick up sites.
Shifting Gears
In addition to changing its business model, the crisis has shaken up internal operations. Two of its six staff members now work remotely. Further, its front door is always locked. All employees must wear masks. Deliveries are conducted to some clients, but it is mainly pick ups or shipping.
While much of its existing business isn't on schedule, it is important that customers know it is still operational. "We send out emails and call customers to know we are open," shares Schwartz.
The company is also being recognized through the Community Hero project. Social media is used to share production videos and photos of the signs. "People that order the signs are following us and get excited to see the printing process. When they receive a sign they share with us on Facebook, Instagram, and Twitter. People who didn't know what we do are now asking for estimates," he shares.
"In the print industry, we understand the medium's unique and powerful ability to catch and keep audiences' attention," says Mark Manning, senior portfolio Manager, Commercial and Industrial Printing Group, Ricoh USA, Inc. "Fusion Cross-Media has responded to this crisis with purpose and agility, and the way it is leveraging that attention to foster a sense of gratitude and community is nothing short of incredible. Fusion understands that putting in the effort to engage communities in a meaningful way isn't just good business—it's what's going to get us through this, as an industry and as a society."
Lemons out of Lemonade
There is no denying print professionals—even those lucky enough with ongoing business—are working hard to combat the obstacles presented by nationwide shutdowns. By thinking outside of the box, Fusion remains relevant.
Schwartz had the same fears as many of his peers going into this, and is eagerly waiting for business to pick back up. But he is dedicated to making the best of a bad situation. "75 percent of my business is closed and while facing collapse I didn't know what to do. I thought outside of the box and started giving away signs to support the community. When I see neighborhoods proudly displaying our signs on my drive home, it feels good and gives me a feeling of hope. When you pay it forward, good things will happen. We are still open and pressing forward day by day," he concludes. dps
May2020, DPS Magazine